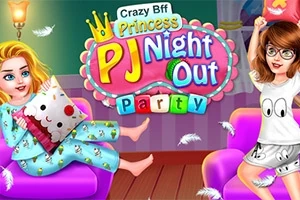 please login to add this game to your favorites
login for full screen mode
Game Description
Crazy BFF Princess PJ Night Out Party
They all miss each other. One of these friends gets the idea to have a crazy PJ party at her home and she organizes an awesome Pajama party. In this princess pajama party game, you will get the chance to choose one character from the four best friends and then play her role in this PJ party game for girls. First, you will need to help her in making an attractive invitation card which will be sent to her besties. Before the PJ party, your selected girl needs so much help with face spa, hair washing, cleaning the house, and in dress up. You need to help her with every task. There will be so much fun waiting for these activities. After this PJ party starts, these girls go crazy. Organizer girl has arranged some girl's favorite fun activities like Nail Art, Hair Do Design, and Pillow Making. These activities will eat sometime during the PJ party and they will also have a good time. Then girls started pillow fighting which will give you so much enjoyment. They will make snacks like popcorn, Cup Cake, and mocktails. Then these girls go nuts and start bedroom jumping with so much fun. Then they start pillow fighting again. After that, they go to the DJ room and have a crazy dance. Lastly, they painted a girl's face. Selfies are taken in memory of this Crazy Girls PJ party. You need to take part in each & every activity they are going to perform & have lots of fun.
Game Developer: GamePix
Similar Online Games to Crazy ...
Related Free Games