Please use your computer to play this game. This game might not work on your device. But don't worry, we have plenty mobile games to play.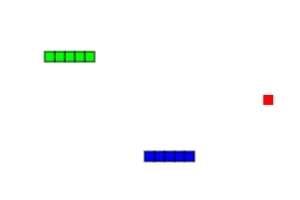 please login to add this game to your favorites
login for full screen mode
Game Description
Snake 42
A unique game for two players that alters the classic Snake game experience. In this version, both players face off as snakes, fighting for dominance on the playing field.
The playing field is divided into two parts, where each player controls their own snake. The main goal of the game is to achieve the longest snake length. Each player starts with a short snake that moves around the field and must collect food to grow even longer.
However, players must be careful not to crash into their own snake or the wall, as this signifies the end of the game. With skillful maneuvering around the playing field, players must attempt to formulate strategies to reach the longest possible snake length.
This game was created by the Play123 team as an enjoyable side project.
Similar Online Games to Snake 42