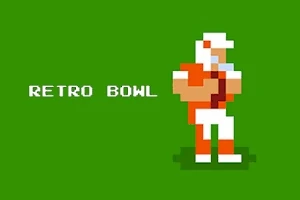 please login to add this game to your favorites
login for full screen mode
Game Description
Retro Bowl
Are you ready to manage your dream team into victory? Retro Bowl is an American football computer game.
Be the boss of your NFL franchise, expand your roster, take care of your press duties to keep your team and fans happy. The endless ways to customize your team and strategy will ensure the game will never get repetitive or boring. You can even edit the name, jersey, or location of every player! With the help of the free agency, you can easily improve or rebuild your team to your liking. Retro Bowl has the perfect mix of control and auto-play, so you won't be able to put down this gloriously retro-styled team management game! Can you pass the grade and take your team all the way to the ultimate prize?
(oh, by the way, we found out, that some users are searching for this game using keywords ... retro ball, retro bow and retro bull ... no, no no ... it is one and only Retro Bowl and you can play it unblocked and for free forever!)
Similar Online Games to Retro Bowl
Related Free Games
Retro Bowl Review
Engaging Team Management with a Nostalgic Twist
I've found it strikes a fine balance between strategic team management and interactive gameplay. The game's 16-bit charm and customization options kept me engaged, as I could tweak nearly every aspect of my team with a personal touch. What stood out for me was maneuvering my players during matches – it's hands-on, yet there's a satisfying level of autoplay that keeps things from getting too hectic.

Admittedly, certain aspects can seem a tad repetitive over time, but that's common in sports management simulations, and Retro Bowl keeps it fresh with updates. Friends I've talked to love the simplicity and nostalgia factor, but some have mentioned they'd appreciate even more depth in strategy and player interactions. Nonetheless, the game's accessibility and ease-of-play make it a blast for both seasoned gamers and newbies alike.

With no shortage of fun in arranging rosters and steering my team to victory, it precisely sated my appetite for a retro football experience with a modern twist. Scoring a solid 4.0 out of 5, Retro Bowl is definitely a game I'd keep coming back to. Beware though, it's quite a task to put down once you begin carving your path to the championship.