Cricket games leap off the pitch and onto your screen with our vibrant online collection. Feel the rush of the crowd and the excitement of each ball bowled in these exhilarating cricket games. Whether you're a seasoned batsman or a first-time player, our collection has the perfect game to challenge your cricketing skills and keep you entertained!
Experience the excitement of Cricket Games
Cricket games are a popular online gaming category. They offer players the opportunity to enjoy the thrill of the sport without having to leave the comfort of their homes. Players can choose from a variety of different cricket games, from simple batting and bowling simulations to more complex team-based strategy games.
Online cricket games offer players the opportunity to participate in virtual tournaments and competitions. Players can compete in real time against each other or even against computer-controlled opponents. Many of these games offer realistic graphics, sound effects and authentic game mechanics.
These games are a great way to learn the basics of the sport while having fun. Players can practice their batting, bowling and fielding skills and develop strategies to win matches. By playing cricket games online, they can also improve their tactical skills and become better players.
Cricket games are a great way to stay connected to the sport even if you're unable to attend a game. With online cricket games, you can keep up with the latest scores and news from around the world. It's also a great way to stay in touch with friends and family who are also fans of the game.
Cricket Games Reviews
A Virtual Cricketing Experience
I recently visited a website that brought the excitement of cricket right to my screen through its vibrant collection of online cricket games. As someone who enjoys the sport, I found the website catering well to both seasoned players and newcomers. It offers a range of games that effectively simulate the thrill of cricket. From batting and bowling challenges to team-based strategy games, there was something to captivate every cricket enthusiast.
The games I played featured realistic graphics and sound effects, significantly enhancing the virtual cricket experience. I had the opportunity to engage in various formats, including T20 leagues and world cup matches, allowing me to test my skills in different scenarios. The site's user-friendly interface was a highlight, making it incredibly easy for anyone to start playing and enjoy the game.
Whether it was practicing cricket skills or just seeking a fun way to pass the time, I found these cricket games to be both engaging and accessible. They offer options to play against computer-controlled opponents or participate in virtual tournaments, providing a perfect blend of entertainment and skill development for cricket fans like me around the world.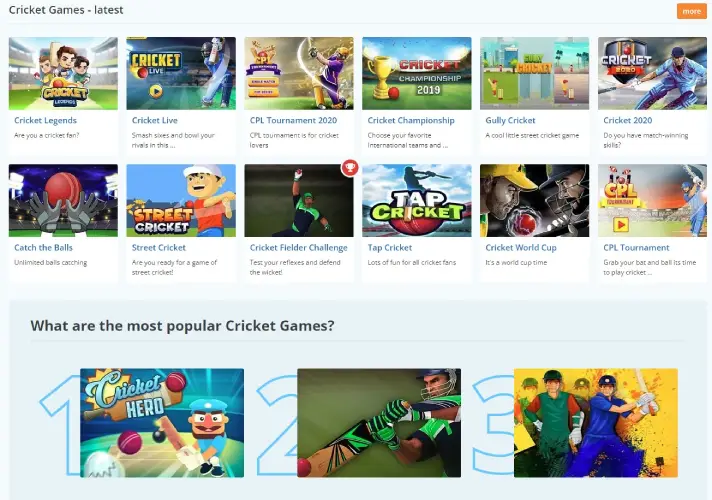 Related free game categories