Please use your computer to play this game. This game might not work on your device. But don't worry, we have plenty mobile games to play.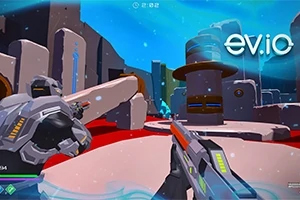 please login to add this game to your favorites
login for full screen mode
Game Description
Ev.io
How long will you last? Team up with players from all around the world or show them no mercy in this multiplayer gun game. It was inspired by several famous action games like Halo and Destiny. You'll be taking control of a fearless space commando in a series of futuristic battle arenas. Go in search of weapons and get ready to duck behind a corner at any second. You never know when you'll be attacked! Ev.io will also let you build up your skills by earning points you can trade in for some truly awesome abilities. You'll definitely be able to show your adversaries who's boss when you start teleporting and using super sprint speed all across nine different arenas. Challenge other players in a public game or go up against your friends in a private one.
Similar Online Games to Ev.io
Related Free Games