Please use your computer to play this game. This game might not work on your device. But don't worry, we have plenty mobile games to play.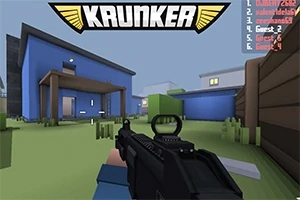 please login to add this game to your favorites
login for full screen mode
Game Description
Krunker.io
Get ready to enter a pixelated world where you'll have to move fast if you don't want to wind up dead. Challenge other players from around the world in Krunker.io. It's an intense first-person shooter game. You'll be able to take them on with machine guns, sniper rifles, and other awesome weapons in this fast-paced multiplayer game. Chase them across a multitude of maps while you dodge their bullets. Many of them were put together by the designers of Krunker.io, but others were submitted by gamers themselves. Show your enemies no mercy in zombie-infested hospitals, ancient temples, various locations from famous movies and TV shows, and even an IKEA! If you love modding weapons, outfits, characters, and even sound effects, you'll definitely want to check out all the stuff you can customize in this online shooting game. Design futuristic warriors or go into battle as a cute but super deadly unicorn. You can also download and use other players' creations as well!
Similar Online Games to Krunker.io