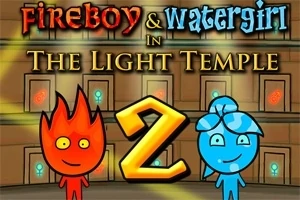 please login to add this game to your favorites
login for full screen mode
Game Description
Fireboy & Watergirl 2 in The Light Temple
In Fireboy and Watergirl 2: The Light Temple, our two heroes have found a new temple to explore! What is the light temple and who built it? Most importantly, how can someone escape from here? In Fireboy and Watergirl the Light Temple, these are the questions our two heroes ask each other in this new two-player adventure. The series continues, and this time the duo has gotten trapped in the Light Temple. They need your help to pass all of the doors, hatches, and dangerous pools of water and lava. Give them a hand and solve lots of interesting platform puzzle levels. Collect gems and save the characters from the depths of the temple.
Game Developer: GameDistribution
Similar Online Games to Fireboy ...