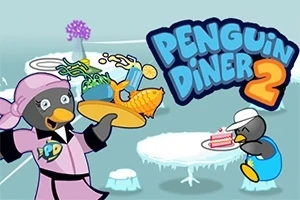 please login to add this game to your favorites
login for full screen mode
Game Description
Penguin Diner 2
Penny the Penguin returns to Antarctica to serve up a feast! After a very successful stint in the Arctic, Penny decides to open up her own diner on home territory. Help Penny achieve her dream of owning the best diner in Antarctica. Play through 4 exciting locations, serving customers and earning prized-stars for Penny's Diner. This is round 2 of the hit game Penguin Diner... and it's bigger and better - guaranteed!
Game Developer: GameDistribution
Similar Online Games to Penguin Diner 2
Related Free Games
Penguin Diner 2 Review
Charming Antarctic Hospitality with Penguin Diner 2
Jumping back into the icy world of Penguin Diner 2, I found myself dishing out meals in Antarctica with Penny the Penguin. The game's simple yet engaging mechanics had me carefully balancing customer service and time management. Each new location brought its own challenges, keeping things fresh and enjoyable. Friends I've talked to also love the charming graphics and the upgraded diner options. I've seen plenty of smiles and heard lots of chuckling as they strive for those prized-stars. Definitely a game that serves up fun on a silver platter, just like Penny's dream diner!