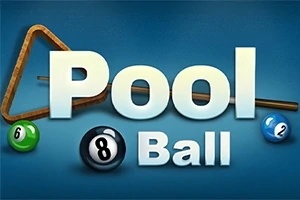 please login to add this game to your favorites
login for full screen mode
Game Description
Pool 8 Ball
Get a cue! Classic billiards is back and better than ever. Choose from two challenging game modes against an AI opponent, with several customizable features. Elaborate, rich visuals show your ball's path and give you a realistic feel for where it'll end up. The best part: It's free!
Game Developer: GameDistribution
Similar Online Games to Pool 8 Ball
Pool 8 Ball Review
Fun and Engaging Virtual Pool Experience
Stepping into the virtual pool hall of Pool 8 Ball was a surprisingly enjoyable experience. The game offers two game modes that are challenging yet fair, giving both beginners and seasoned pool players a chance to shine. With its rich visuals and realistic trajectories, I felt like I was right by the pool table, calculating my every shot. While the AI does pose a worthy opponent, I appreciated the added difficulty—it pushed me to improve my strategies ... I've noticed that I'm not alone in enjoying the clear ball markings and user-friendly gameplay; others have found it easier to navigate compared to other online pool games. The simple joys like executing a perfect spin or outsmarting the computer make every match exciting. If I had one wish, it'd be to score higher than the AI more consistently, but as they say, practice makes perfect! And hey, if you manage to confuse the computer–it's like a little victory dance in itself.