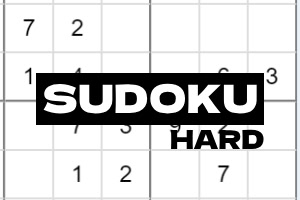 please login to add this game to your favorites
login for full screen mode
Game Description
Sudoku Hard
Sudoku Hard is an online game tailored especially for avid Sudoku experts. This version is substantially more challenging compared to classic variants, making it the ideal choice for those who have already mastered the basic techniques and strategies for solving Sudoku grids. Brace yourself for a challenge that will push the boundaries of your puzzle-solving skills.
This game is perfect for those looking for a true challenge without the distractions of advertisements or achievements. Sudoku Hard is entirely free and accessible via the web on any device. If you're already accustomed to versions like "Sudoku Evil", you'll find this game particularly to your taste.
To successfully solve our intricate grids, you'll need a solid Sudoku strategy. The game offers a series of challenging grids that will require the use of advanced tactics and logical reasoning. This is your opportunity to truly test your skills and become a Sudoku master.
This series also includes Sudoku Easy and Sudoku Printable.
Similar Online Games to Sudoku Hard