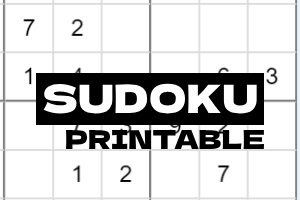 please login to add this game to your favorites
login for full screen mode
Game Description
Sudoku Printable
Sudoku Printable is an online sudoku game featuring moderate difficulty, designed for both the web and any mobile device. It caters to all sudoku enthusiasts looking for puzzles that strike the right balance between being too easy and too hard. Whether you're at home, at work, or on the move, this game is accessible and fun to play anytime, anywhere.
One of the standout features of Sudoku Printable is the ability to easily print out sudoku puzzles directly from your computer to your printer. You have the option to print anywhere from one to ten sudokus at once, making it convenient whether you're looking for a single quick challenge or an array of puzzles to keep you engaged over a period of time.
The best part about Sudoku Printable is that it is completely free and void of any advertisements. This allows you to focus solely on solving puzzles without any distractions or interruptions. It's the perfect choice for those seeking a high-quality sudoku gaming experience with no additional costs or hassles.
This series also includes Sudoku Hard and Sudoku Easy.
Similar Online Games to Sudoku Printable