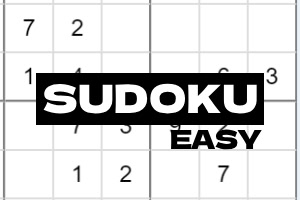 please login to add this game to your favorites
login for full screen mode
Game description
Sudoku Easy
Sudoku Easy is an online game designed to be accessible and fun, available on all types of devices, from desktop computers to smartphones. Specifically catered to children and beginners, this game offers an ideal introduction to the world of logical challenges and problem-solving. Best of all, the game is completely free of charge and provides a smooth, enjoyable gaming experience without any ads or complicated achievement systems to distract the players.
Just like traditional Sudoku games, the objective in Sudoku Easy is to fill a 9x9 grid with numbers from 1 to 9, ensuring that the same numbers do not repeat in each row, column, or 3x3 square. Although designed with beginners in mind, the game offers enough challenges to keep you engaged and help you improve your Sudoku-solving skills over time.
If you're a fan of Sudoku games like the New York Times version, Sudoku Easy is a perfect choice for you. It allows you to relax and unwind while challenging your mind at the same time. Enjoy a clean and user-friendly interface and immerse yourself in a world of logical challenges, where each puzzle serves as an opportunity for learning and fun.
This series also includes Sudoku Hard and Sudoku Printable.
Similar online games to Sudoku Easy