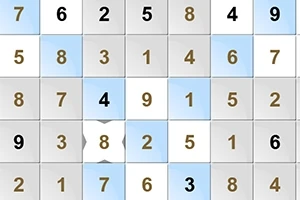 please login to add this game to your favorites
login for full screen mode
Game Description
Daily Sudoku X
Daily printable Sudoku game with an additional rule for the diagonals. Every day new sudoku games with the following rules: each row, column, 3x3 box and diagonal contains the numbers 1 to 9 only once.
Looking for a challenging Sudoku puzzle game that you can play offline? Try Daily Sudoku X - a variant of Sudoku that features a diagonal constraint for an extra layer of difficulty.
And the best part, you can even print out daily Sudoku X puzzles to solve at your own pace, wherever you are. Just a pen and paper, and you're ready to go.
Choose from a variety of difficulty levels and puzzles to keep your brain engaged and challenged.
So why not add a daily Sudoku X puzzle to your routine and improve your logical skills?
As we said, this sudoku is printable and will take you on the challenge at your convenience.
Give it a try today and see how fast you can complete your next Sudoku puzzle!
Game Developer: Zygomatic
Similar Online Games to Daily Sudoku X