Please use your computer to play this game. This game might not work on your device. But don't worry, we have plenty mobile games to play.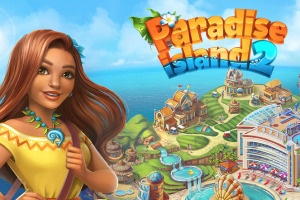 please login to add this game to your favorites
login for full screen mode
Game Description
Paradise Island 2
The legendary hotel tycoon game is back! The tropical island looks as beautiful as ever, ready to house your ultimate hotel empire and receive crowds of family tourists, adventure seekers, and even virtual villagers. Develop the lost island into the most luxurious family resort in Paradise Island 2 — one of the sunniest and cutest hotel games out there. Start off with just a bunch of straw huts that provide a village life vibe on the island and build your way towards a full hotel empire with elite 5-star family accommodation fit for a world-class hotel tycoon.
Make your island resort the most hyped vacation destination with all sorts of attractions, shops, and restaurants. Engage family tourists and their kids with hotel games and activities. Turn the whole island into an amusement park filled with rides, cafes, and virtual villagers, giving your guests a taste of village life. Become the ultimate hotel tycoon by expanding your influence on a lost island and tailor your hotel empire to fit the needs of even the most demanding tourists: be they young and noisy fun-seekers or reserved family people looking for safe family fun.
Becoming a hotel tycoon is a serious mission, but no one says you can't have fun on your island while you're at it!
Similar Online Games to Paradise Island 2