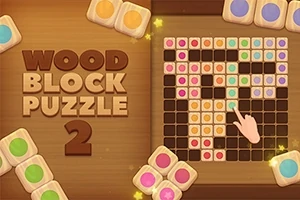 please login to add this game to your favorites
login for full screen mode
Game Description
Wood Block Puzzle 2
Will you achieve the goals waiting for you in each level of this challenging online game? See how many of the wooden pieces you can fit onto the board in this puzzle game. When portions of them form a full row, they'll disappear just like in Tetris. Can you complete every level before you run out of space?
Game Developer: GameDistribution
Similar Online Games to Wood Block Puzzle 2
Wood Block Puzzle 2 Review
Fun Times with Wood Block Puzzle 2
Just when I thought I'd mastered all things blocky, along came
Wood Block Puzzle 2
and boy, did it throw me for a loop - the fun kind! Seriously, fitting those wooden pieces on the board felt like playing Tetris in the woods, but with squirrels cheering me on. The goals in each level up the ante, and I've seen friends squabble over the best strategy to avoid running out of space; it's like a picnic with just one sandwich left.
Crafting full rows that poof away is oddly satisfying, and there's something magical about that sound - like woodworking without the sawdust. As for the challenge, let's just say it keeps my brain joggin' better than my morning coffee. If you're looking for a mental stretch or just need to kill time without feeling guilty about it, check this one out. Who knew arranging timber could become my next obsession? For fans of brain teasers, I'd recommend a sibling game with a similar vibe,
Magic Mahjong
. Happy puzzling, folks!