Please use your computer to play this game. This game might not work on your device. But don't worry, we have plenty mobile games to play.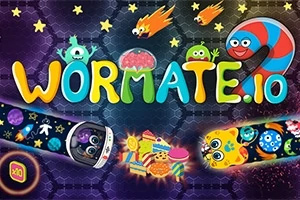 please login to add this game to your favorites
login for full screen mode
Game Description
Wormate.io
Will you bite off more than you can chew in the online multiplayer game Wormate.io? Join forces with a wacky worm that has an insatiable appetite! You'll be going up against worms controlled by other gamers from all across the planet. How long will yours last once you dive into this feeding frenzy? If you enjoy snake games, you'll get a big kick out of Wormate.io. Help your worm stay in one piece for as long as possible while it gobbles up tons of yummy cakes. There's also tons of helpful power-ups that it can collect, too. Just watch out for all the other worms!
Similar Online Games to Wormate.io