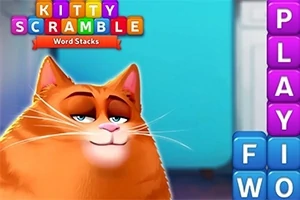 please login to add this game to your favorites
login for full screen mode
Game Description
Kitty Scramble
Help cute kitty to find hidden words - discover them on the board with letters. Use hints, search the words on the board, and swipe through them to open! Invite your friends and play together.
Game Developer: GameDistribution
Similar Online Games to Kitty Scramble
Kitty Scramble Review
Cute and Challenging - A Kitty Scramble Adventure
Just spent another hour on Kitty Scramble and gotta say, this game's like a furball - oddly satisfying but sometimes it just gets stuck. Helping this cute kitty find hidden words is a decent workout for the brain, but boy does it throw a hissy fit when it loses my progress. A mate of mine got set back to level one, talk about a cat-astrophe! Refresh trick works sometimes, so there's that. It's a purr-fect way to kill time, just wish the game wouldn't take 'cat nap' with loading issues.