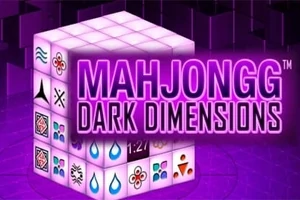 please login to add this game to your favorites
login for full screen mode
Game Description
Mahjongg Dark Dimensions
Variant on Mahjongg Dimensions game, with special bonus tiles. Combine 2 of the same stones to remove them from the board. Stones need to have at least 2 free (adjacent) sides. Combine 2 bonus tiles for extra time.
Game Developer: GameDistribution
Similar Online Games to Mahjongg Dark Dimensions
Mahjongg Dark Dimensions Review
Challenging Puzzle with a Timely Twist
Just rolled up my sleeves for another round of Mahjongg Dark Dimensions and like my morning coffee, it's a ritual I can't skip. The special bonus tiles? They're like finding an extra shot of espresso – a welcome boost! The clock's always ticking, reminiscent of that race against my phone's dying battery. Sure, some folks griped about sudden ads, others chatted scores like they were swapping fish tales. Me? I'm here humming 'beat the clock' while strategizing my next tile match, obsessed with crushing my personal best. I caught myself fist-pumping at a smooth move – yep, it's that engaging! For a similar brain-teaser, check out
Jewelish
, it's a gem!