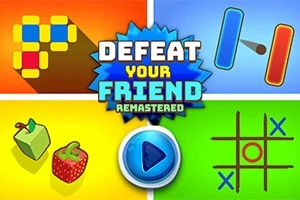 please login to add this game to your favorites
login for full screen mode
Game Description
Defeat Your Friend: Remastered
There are six mini games available in this game! (Dot and Boxes, Pong, Memory, Math Wars, Tic Tac Toe and Hi-Low) Try to beat your friend in 6 games which you will need to use your brain skills and your luck. You can control the game by Mouse or by the keyboard controls which is showed before the game starts. Beat your opponent and prove your skills!
Game Developer: GameDistribution
Similar Online Games to Defeat ...
Related Free Games