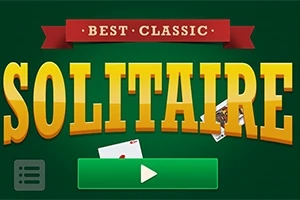 please login to add this game to your favorites
login for full screen mode
Game description
Best Classic Solitaire
Best Classic Solitaire transports you back to the timeless essence of the beloved card game. Experience the nostalgic charm of the classic gameplay combined with a modern, clean interface, designed for a seamless gaming experience.

Unleash your strategic thinking and indulge in the simplicity and elegance of this game, where the objective is to move all cards onto the four foundation piles, sorted by suit and rank in ascending order from Ace to King. With its intuitive controls, beginners can quickly learn the game, while experienced players will love the challenge of strategizing their moves and improving their speed.

Best Classic Solitaire offers a serene backdrop to a captivating mental exercise. The game boasts a beautifully designed layout that's easy on the eyes, accompanied by a soothing soundtrack that perfectly complements the relaxing nature of solitaire.

In this game, strategy and patience reign supreme. The "Hint" options add a safety net for those testing new strategies, while the timed mode and scoring system will stoke the competitive flames of the most ardent solitaire aficionados.

Experience the magic of Best Classic Solitaire, where the delight is in the details. Whether you're looking to unwind after a long day or seeking a stimulating mental diversion, this game delivers an unmatched solitaire experience right at your fingertips. An old classic reimagined, it is perfect for those yearning for a slice of nostalgia, as well as newcomers seeking a new pastime. Embrace the timeless challenge and start stacking those suits!
Similar online games to Best Classic Solitaire