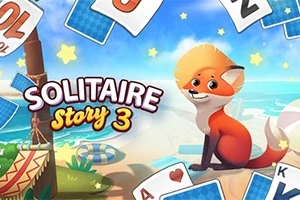 please login to add this game to your favorites
login for full screen mode
Game Description
Solitaire Story: TriPeaks 3
Foxy, the game's main cute little character, will take you on a journey through distant countries, fantastic landscapes, and famous landmarks including Paris, Berlin, Bali, Italy, Egypt, and many more! With incredible 2750+ levels, Solitaire Story Tripeaks 3 is one of the deepest Solitaire games of all time. Enjoy Daily Missions, Weekly Air Balloon Challenges, and dozens of new card designs!
Game Developer: GameDistribution
Similar Online Games to Solitaire ...
Solitaire Story: TriPeaks 3 Review
A Charming Journey Through TriPeaks Solitaire
Embarking on a journey with Solitaire Story: TriPeaks 3 has been nothing short of delightful. As an avid solitaire player, I found that the game's captivating landscapes and famous landmarks, from Paris to Bali, added a fresh twist to the classic card game experience. The progression through over 2750 levels keeps the challenge exciting, while daily missions and weekly challenges provide that extra push towards strategic play.

The charming Foxy serves as more than just a guide but as an adorable companion across various countries. It's heartening to see that many players resonate with the joy that this game brings, despite a few experiencing temporary hitches. An occasional mention of long loading times reminds us that all good things come to those who wait—or in this case, sometimes reload. That being said, the general sentiment hovers around enjoyment and the satisfaction of a well-crafted solitaire adventure.

Melding strategic depth with picturesque scenery, Solitaire Story: TriPeaks 3 has solidified its place on the leaderboard of digital card games. And if I had a card for every time I've been asked if solitaire can be funny, I'd have a full deck—but honestly, the only jokes here are the ones I'm making about how surprisingly addictive this solitaire journey can be.